FOTILE V Series 30″ 1000 CFM Range Hood with Touchscreen in Onyx Black Tempered Glass – JQG7505
$1,399.00
Using infrared connectivity you can simply operate this kitchen range hood with a wave of your hand This allows you to turn the unit ON or OFF without touching the unit
90 degree Automatic Open/Close Fume Baffle Plate prevents the smoke from spreading in your kitchen and protects you against any harm
30 inches Extra-wide Fume Inlet ensures even suction pressure at every angle
Local Shipping Only
Ask for current inventory
FOTILE's 3rd GEN of Side Draft Range Hood. Advanced Technologies Brings Brand New Cooking Experience.
FOTILE V Series, 30″ wall mount/under-cabinet side-draft design range hood not only provides excellent performance but looks great as well. With an automatic open baffle plate when the unit is powered on, it will open to a 90 degree angle capturing smoke and fumes before they escape. A large 6sf coverage area easily covers all 4 / 5 burners on your cooktop guiding smoke upwards and creating a barrier to prevent you from breathing in harmful smoke and grease. The JQG7505 is capable of normally producing 620 CFMs, with the WhisPower motor Technology and Capture-Shield extraction, it can achieve a maximum power of 1000 CFM and lowest noise level 38dB. It is closer to the surface than traditional range hoods, maximizing the unit's speed and efficiency for maximum smoke extraction. An elegant touchscreen control with 4 fan speed settings, it has a screen lock function to ensure your unit will not power on while you clean it with a damp cloth. A delayed shutoff function, keeps the fans on for an additional 2 min. after your done cooking to ensure all the smoke and odor are removed from your kitchen. You can also wave at the hood to turn it ON and OFF for ease of use. Two powerful LED lights with 500 lux power light up your cooktop so you can see your food as you cook. Cleaning is easy with a large grease tray and removable, dishwasher safe filter. The JQG7505 will bring a whole new culinary experience to you and your family.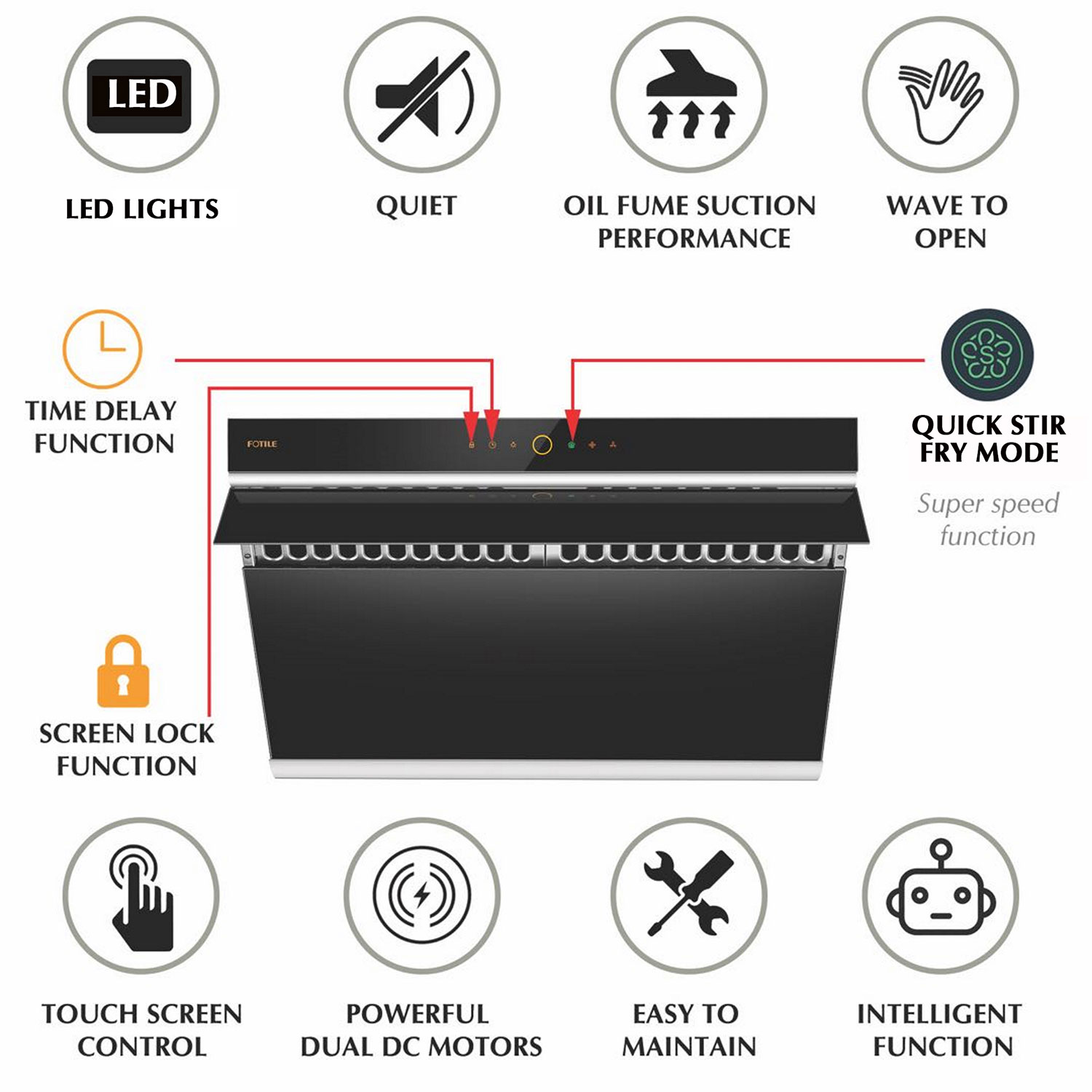 Gesture Detector for Easy Activation
This range hood conveniently turns on with a simple wave of your hand. Once activated, the smokescreen will automatically turn on as well, and you will see the dual LED lights illuminate as the unit begins extracting smoke. Enjoy using your kitchen— it's as simple as that.
Dual-Core DC Motor for Efficient Extraction and Noise Reduction
The brushless variable frequency motor maximizes efficiency and overcomes environmental resistance by implementing side-draft static pressure up to 540 Pa. Minimum working noise levels reach a whisper-quiet 39 dB for a truly peaceful cooking experience.
Stir-Fry, Pan-Fry, and Deep-Fry with Ease
Designed for the cook who loves to do it all, this range hood is the ultimate weapon against smoke, vapors, and other lingering odors. Whether you're cooking meat, fish, or vegetables, your kitchen air will stay clean and easy-to-breathe.
WARRANTY
FOTILE is offering five years limited warranty on range hood products. Life time limited warranty on motors. From your purchase date, TWO (2) YEARS FULL WARRANTY ON ALL FOTILE RANGE HOOD PRODUCTS AND PARTS AND THREE (3) YEARS LIMITED WARRANTY ON ALL PARTS OF FOTILE RANGE HOOD PRODUCTS.
Only logged in customers who have purchased this product may leave a review.