DOING KARAOKE AT HOME THE RIGHT WAY
That sense of excitement when watching a musical performance. That adrenaline rush when stepping into the limelight to sing. Those are the reasons why karaoke become so popular. Anyone can do it. Anyone can feel like a rock star with a microphone in hand.
But you don't always have to go to a club full of strangers to enjoy karaoke. With just a few electronic components and you can have a professional grade karaoke system at home. Host a karaoke party that will surely impress friends and family. Or maybe you just want to be able to belt out a few songs after a stressful day? Whatever it is, Superco is here to help you put together your very own home karaoke system.
What is Karaoke?
Karaoke is a Japanese word that literally means empty orchestra. It is musical accompaniment without any vocal. Karaoke emerged as a type of interactive entertainment in the 70s. Songs were recorded and played back in instrumental only. Lyrics were usually displayed on a video monitor with a moving pointer to guide people to sing along with a microphone. It quickly spread through Asia. And by 1990s it gain popularity around the world.
What do You Need for Karaoke?
You will need a system to play back sounds, to show lyrics on a screen, a couple of microphones to sing into, and of course, a library of songs to choose from.
1. You Need a Karaoke Player
A karaoke player stores and playback songs that you want to sing, shows the lyrics to a screen for you to follow along. It is the soul of a karaoke entertainment system. Newer machines often use hard drives for storage of tens of thousands of songs. With wifi connection many can download new songs when they become available. Most players also work as a mixer, allowing you to plug in microphones to sing, mix your vocal and the instrumental music, and output to TV or speakers.
2. You Need a Couple of Good Microphones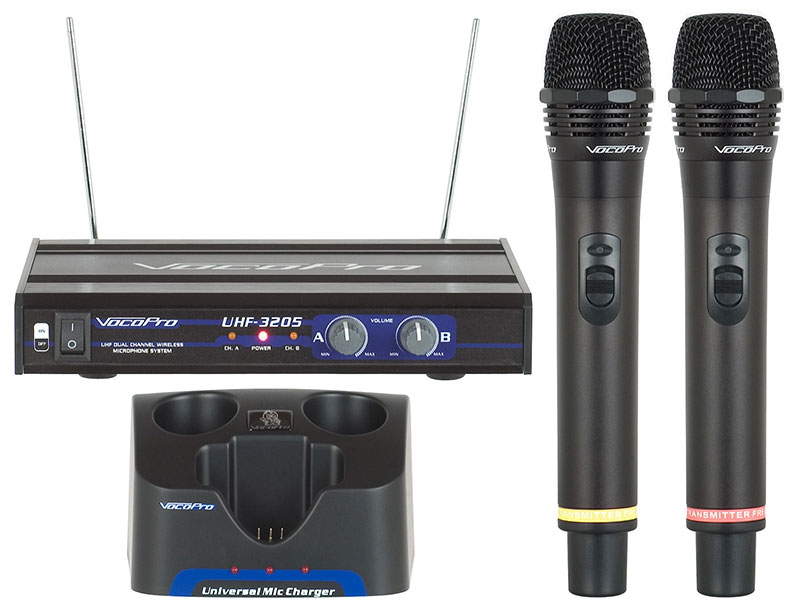 What's karaoke without a microphone? Get a couple so you can sing duets with friends and family. Go wireless so you can show off a few moves while singing your favorite songs.
3. You Need a Video Screen
Those song lyrics need a display to show so you can follow along. You can use existing TV as long as there is video input available. Go big! Karaoke songs come with videos, often videos by the original singers. It will definitely add another fun factor to your party!
You may also want to consider adding a small touch screen. Some karaoke players allow you to attach these screens to provide easier song selection without interrupting any singing in progress.
It's true that you can play karaoke sound through TV speakers. But why would you want to? Get a pair of good speakers and feel every beat of the music! You want speakers that give you crisp and clear treble, rich middle range and a moving deep base sound. They should also be able to handle louder volume without deterioration of sound quality.
5. You Need Mixing Amplifier
When you add a good pair of speakers, you need an amplifier to power them. Consider a karaoke mixing amplifier. Not only will they power your speakers, most of them also come with a set of sound effects that will improve singing performance. Additional microphones can also be connected to a karaoke mixing amp.
These amplifiers can also allow input from other devices such as a DVD player. Making your system a multi-function entertainment center.
There you have it! A quick intro to what you need to create an impressive home karaoke system. And as a bonus, these systems do not limit their use to just throwing fun karaoke parties. They can also function as home audio system and home theater. Not in a party mood? Turn on some quiet music or start a movie and relax into a chair.
Putting together a home karaoke system is easy at Superco. We have variety of products to choose from, a full karaoke setup in our showroom for you to test drive each product. Come sing a few songs and experience the fun. After you make your choices, we can even arrange local delivery and installation so all you have to do is get ready to KARAOKE!
VISIT US
17523 COLIMA RD.
CITY OF INDUSTRY, CA 91748